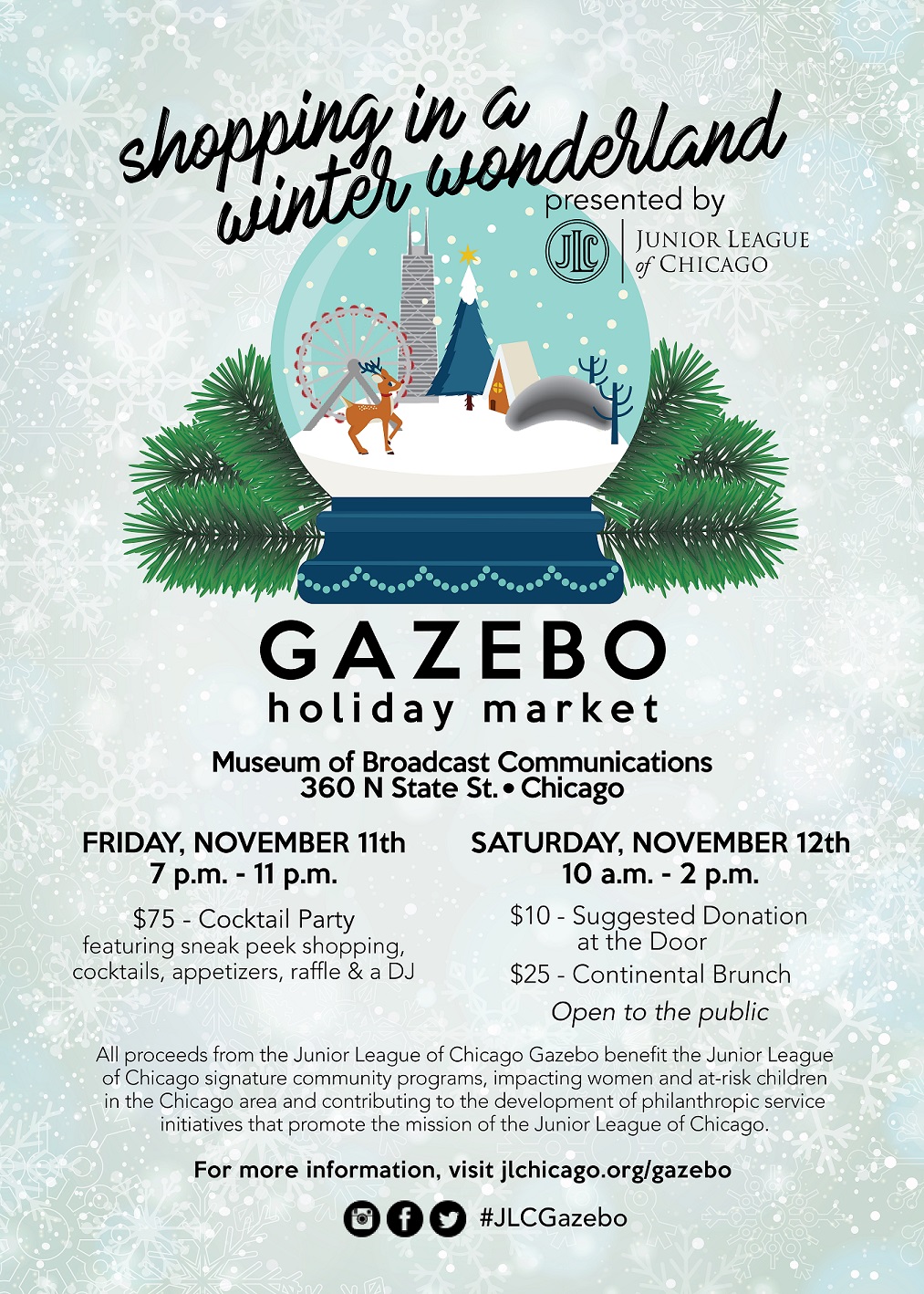 The JLC Presents Gazebo Holiday Market 
Immerse yourself in the unique shopping experience.
The Holiday Market has fabulous fashions, delectable foods, exciting entertainment, and a multitude of special events all to benefit our community programs. This shopping event features more than 60 specialty merchants from across the country offering unique gift items. 
You can feel good knowing that your support of Junior League of Chicago fundraiser will make a direct impact on the Chicago-land communities.
Check back next year!
---
The Schedule of the Holiday Market is as followed:
Holiday Market Preview Party
Friday, November 11 from 7:00pm-11:00pm
Get a sneak peak of the market. Enjoy cocktails and appetizers as you shop around.
Also, enjoy our fabulous raffle with entertainment from our DJ.
Saturday, November 12 from 10:00am-2:00pm
Start your Christmas shopping at our Gazebo Holiday Market.
Enjoy a delicious brunch buffet and shop around for gifts!
---
2016 Vendor Application has passed. If you wish to apply for next year please email jlchq@jlchicago.org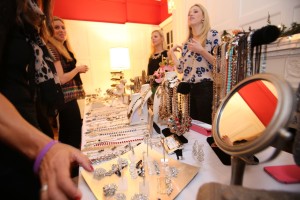 Thank you vendors!
3 Girls Smiling
A la Card Chicago
Ace & Everett
Aha Concepts LLC
All She Wrote
Allison Mooney Design
Altruette
Alyssa Bove
Amy's Cranberry Candy
Antique Creations
Anuja Tolia Jewelry
Beau Gant
Bluffton Tea Company
Bon Macaron
BonBon Designs
Chandler Candle Co
Chicago Candle Factory
Dena Lyons
Dina Morris
Dip'n Good Dips
Dr. Judy's Cookie Dough
Indie-Pendant
Jai Primer
Jessi Sheehan
Jewels Botanica
Kissyboo Collection
Kolossos
KR Curated
Lainey's Bakery & Pawtique, Inc.
Laura Tanner Jewelry
Lemaster Family Kitchen
Leslie Hindman Auctioneers
Memoir for Me
Mimi & Mick
MKM Splendor
Modernplum
Mojo Owl
Nature's Island
Production Mode/ Dept. of Curiosities
PTM Werks Inc.
Rach B Jewelry
Sandra Noble Designs
Selleria Veneta Inc.
smART postcards Inc
Swaby Fashion Inc.
T & J Designs
The Poppet Co
Tiny Doe
Toss Designs