For more than a century, The Junior League has empowered women to lead. We've worked with leaders who've set bold goals, opened their circles, disrupted convention and changed the conversation for the betterment of civil society. The Junior League of Chicago (JLC) partners with community organizations, non-profits, and schools, allowing them to better achieve their mission.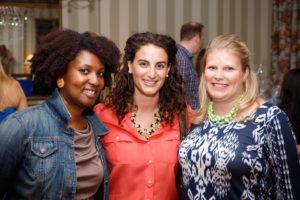 The Junior League of Chicago is dedicated to strengthening and transforming our community through effective action and leadership of well-trained volunteers.
Through collaboration and community engagement, we seek to remove the many barriers to success which limit the ability of disadvantaged children and families to improve themselves and their community.
Each year, The Junior League of Chicago donates over 125,000 volunteer hours to community agencies and programs that support child welfare and education.
In addition, the JLC raises thousands of dollars each year to fund our 12 community projects. For more than a century, the JLC has diligently worked to empower at-risk families—especially women and girls—through hands-on mentoring, advocacy and education.
Learn about how the Junior League of Chicago builds better, healthier communities through our Community Projects, Advocacy Initiatives, and Leadership Training.
The Junior League of Chicago partners with organizations throughout the Chicagoland area to support at-risk women and children. If you would like to have your organization considered for a future Junior League Chicago Community project or volunteer event, please tell us about your organization. A JLC member will reach out to you within 72 hours of your submission. Thank you.