Below is a list of creative ways to consider giving to support the mission of the Junior League of Chicago.
---
Donate by Mail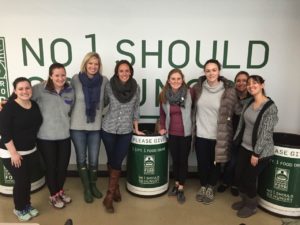 Provide hope and opportunity to women and children in need who face challenges by making a fully tax-deductible donation to Junior League of Chicago. You can mail a check to:
1447 N. Astor Street
Chicago, IL 60610
Additionally, you can  donate to honor a loved one or make a gift in someone's memory.
---
In-Kind Donations
We would love your help securing some great auction items for our fundraising events! Auction donations give supporters the opportunity to win fabulous entertainment packages, gift cards, hotel stays, trips, one-of-a-kind experiences, and so much more – all while helping women and children in need in Chicago! We are looking for items in the following categories:
Luxury travel packages & experiences
Sports tickets & autographed memorabilia
Concert tickets
High-end fashion & fine jewelry
Great local restaurants, hotels, and entertainment
Beauty and spa packages
Please note: Artwork, Photography donations are welcome, but as we already receive plenty of donations in these categories, they are not a focus for solicitation.
For more information please email our team at fundraisingdirector@jlchicago.org
---
Giving at Work
Does Your Employer Have a Volunteer Grant Program? If so, this is a great way to support the JLC! Volunteer grant programs are charitable giving programs set up by corporations in which a company provides a monetary donation to eligible nonprofits as a way to recognize their employees that volunteer. Typically employers will donate a specific dollar amount to JLC for each hour you volunteer with JLC! If you are unsure if your company offers a volunteer grant program, check with your human resources department. Then, contact the Grant Writing Committee to complete your company's application at grantwriting@jlchicago.org.