Joining the Junior League of Chicago
The Junior League of Chicago is made up of women from all walks of life bound by a single goal: to improve the health and well-being of women, children, and families in our city.
Interested individuals do not need sponsorship from current members in order to join. Simply follow the steps below or visit our Membership Page for additional information.

How to Become a JLC Member in 4 Easy Steps
Complete the Prospective Member Information Form below. Once you complete this form, you will receive a confirmation email. The link in the confirmation email will take you to the Prospective Member Information Session Calendar, where you can select a date to attend a Prospective Member Information Session.

Attend one Prospective Member Information Session, or PMIS. See below for upcoming dates.
Complete the Additional Prospective Information Form once you attend a PMIS, and pay dues to reserve your spot in the JLC New Member Course.
Complete a six-month New Member Course and fulfill necessary obligations to maintain membership status.
Upcoming Prospective Member Information Sessions
Attendance at a Prospective Member Information Session (PMIS) is a prerequisite for membership in the Junior League of Chicago. At the PMIS, current JLC leaders will provide more information about the JLC's mission, community projects, events, and membership dues. All Prospective Member Information Sessions will be virtual unless otherwise stated. The Fall Prospective Member Information Session dates (all meetings will be held virtually) are:
All Fall PMIS Dates in advance of the January-start 2022 Burton New Member Course have concluded. Please check back in Spring of 2022 for dates leading up to the June Start 2022 Astor New Member Course.
You must have filled out the above Prospective Member Information Form and logged into your JLChicago.org account to view the Calendar and sign up for one of the above dates.
Paying Membership Dues
Dues are collected on an annual basis.  All paid dues and fees are non-refundable. Items purchased as well as ticket purchases are non-refundable. If you have questions or concerns regarding dues, reach out to the Membership Council for support.
Questions About Becoming a Member
If you have already attended a PMIS event but did not join the JLC at that time, you do not need to attend another PMIS to be eligible to join. If you have specific questions, please do not hesitate to email us at prospectivemember@jlchicago.org or lhawthorne@jlchicago.org for more information.
The Junior League of Chicago New Member Course
New Member Courses start twice a year, in January (the Burton Class) and June (the Astor Class). About six weeks before your New Member Course begins, you will hear from both JLC Headquarters and the New Member Course Committee leaders. You will be provided with information about your New Member Course Counselor, and some dates to save for the first few weeks of the New Member Course. Prior to the start of the course, you will also begin to receive the JLC's weekly e-newsletter, Connections.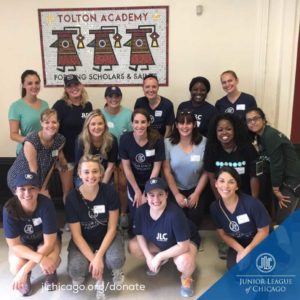 Your first six months of membership is known as the New Member Course. The purpose of this first-year training is to expose each volunteer to the various community and In-League activities of The Junior League of Chicago with a focus on the following:
Educate new members on the volunteer opportunities available in the League
Help them select a fulfilling area to focus their time and efforts as Active members
Introduce them to other women who share their passion and interests
You will be assigned to an New Member Course Counselor who will lead a small group of New Members who are similar to you in life stage, location, etc. The New Member Course Counselor will be able to answer any questions you have throughout the New Member Course and will plan fun activities to help you get to know other members of the League as well as help you pick which Committee you'd like to join.
---
Wishing to Reinstate with the Junior League of Chicago?
If you have been away from the League and wish to rejoin our membership, please submit a Reinstatement Request. We will contact you once your request has been reviewed.