JOIN THE JUNIOR LEAGUE OF OF CHICAGO
MEMBER INFORMATION SESSION WILL OPEN IN LATE SUMMER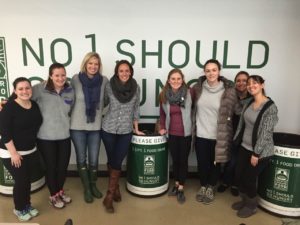 WHO IS THE JUNIOR LEAGUE OF CHICAGO?
We are women, mothers and daughters, students and graduates, activists and philanthropists, dreamers and believers. From all generations, all walks of life, bound by a single goal: to improve the health and well-being of women, children, and families in our city.Women in the Junior League of Chicago come from all parts of the metropolitan area and from all walks of life. Members do not need "sponsorship" from current members in order to join, only to follow the steps outlined below. This diverse organization welcomes and celebrates women of all backgrounds, as each member brings a unique perspective to our organization and enriches our League. Members share a commitment to voluntarism and building a better community.
ARE YOU A WOMAN LOOKING FOR AN OPPORTUNITY TO MAKE AN IMPACT IN THE LIVES OF OTHERS?
Look no further than the Junior League of Chicago, a unique volunteer organization for women. Our members participate in large community projects that make a significant contribution to the community.
BENEFITS TO JOINING JLC:
Make positive changes in the Chicago community

Expand your circle of influence and connect with inspiring women

Meet new people and form lifelong friendships

Impact so many lives by giving back effectively and efficiently

Do good on a regular, ongoing basis

Experience personal growth and leadership development

Expand your skill set; speaking, public relations, sales, marketing

Participate in a well-run organization
We want to make the member process as easy as possible. Please contact us at prospectivemember@jlchicago.org any time if you have questions about joining the JLC!
---
With more than 100 +  years of service, 

the Junior League of Chicago provides trained volunteers, develops the potential of women, and improves our community. All women are encouraged to join!

♦
STEPS TO JOINING THE JLC:
RSVP and Attend Prospective Member Information Session

(Please check back at the end of summer for Prospective member information sessions dates for Burton Associate Course)

Complete and Submit Information Form
Pay Membership Dues
The JLC Associate Course
Your first six months of membership is known as the Associate Course (you may have heard of the 12-month Provisional Year in other cities).The purpose of this first-year training is to expose each volunteer to the various community and In-League activities of The Junior League of Chicago.
Educate new members on the volunteer opportunities available in the League
Help them select a fulfilling area to focus their time and efforts as Active members
Introduce them to other women who share their passion and interests
You will be assigned to an Associate Course Counselor who will lead a small group of Associates who are similar to you in life stage, location, etc. The Associate Course Counselor will be able to answer any questions you have throughout the Associate Course and will plan fun activities to help you get to know other members of the League as well as help you pick which Committee you'd like to join.
Membership Prerequisites
Associate Course programs begin in January and June every year. In the fall or spring, before the Associate Course begins, prospective members must attend a Prospective Member Information Session (PMIS) that provides information about the League, our mission, our work in the community and the responsibilities of membership. The PMIS is the JLC's only membership prerequisite. We have no sponsor requirement and no membership application (you will be asked to fill out an information form after attending the PMIS so that we know how to contact you, but this is not an application for membership).
If you are interested in making a difference in your community and like what you hear about the JLC, we want you to join! Because the PMIS is our only prerequisite, and we offer ten of these events per year (five in the spring and five in the fall), and we are strict about this requirement.
PMIS Information
If you are interested in joining the JLC and have not attended a Prospective Member Information Session, you are invited to attend one of the six sessions we hold in the months leading up to the start date of each Associate Course. These sessions are a necessary step to becoming an Associate Member Please click the date below to RSVP for the date you would like to attend.
---
The Fall 2017 Prospective Member Information Sessions are not yet available. Please check back in late summer for more dates. Please email jlc.prospectivemember@gmail.com to add you name to the list for updates about when these dates will be
If you have already attended a PMIS event but did not join the JLC at that time, you do not need to attend another PMIS to be eligible to join. Please contact prospectivemember@jlchicago.org or jlchq@jlchicago.org for more information.
---
Next Steps
After you have attended a PMIS and turned in your information form, you are eligible to join the JLC! To confirm your place in the next Associate Course, you must pay Associate dues by the submission deadline. The PMIS leaders will provide a dues statement and more information about dues and fees during the session, but here are guidelines:
To pay Associate dues, you can do one of the following:

Pay online*
Mail a check to JLC Headquarters*

Dues Submission Deadlines:**

June Astor Associate Course: May 1
January Burton Associate Course: December 1
*Please note, all paid dues are non-refundable. There are no refunds. This applies to all ticket purchases and items.
**There is a size limit on each Associate Class, and admission to the class may be closed prior to that deadline.
Within the month, before your Associate Course begins, you will hear from both JLC Headquarters and the Associate Course Committee leaders. You will be provided with a login for the JLC website, information about your Associate Course Counselor, and some dates to save for the first few weeks of the Associate Course. Prior to the start of the course, you will also begin to receive the JLC's weekly e-newsletter, Connections.
---
Wishing to Reinstate with the Junior Leauge of Chicago?
If you have been away from the League and wish to rejoin our membership, please submit a Reinstatement Request. You will be contacted by Headquarters once your request has been reviewed.