Human Trafficking Prevention Efforts During COVID-19
The Unexpected Impact of COVID-19 on the Human Trafficking Epidemic in Chicago
As we continue to see Chicago, and the world, adjust to its "new normal" of COVID-19 life, there are many effects of this pandemic that may not immediately come to mind.
It is not long lines at the grocery store, a hand sanitizer shortage or a requirement that we now have to wear a mask everywhere we go – it is the effects on another epidemic we face here in the city of Chicago – human trafficking.
Kara Doan, co-founder and chief operating officer at the anti-human trafficking organization and Junior League of Chicago (JLC) community partner Restoration 61 has seen firsthand the surprising impact COVID-19 has had on the state of human trafficking in Chicago.
"One of the things that hasn't changed is the victims, they're still there," said Kara in a recent conversation with the JLC. "But we've had more restricted access to our girls because a lot of the other organizations providing services either closed or went to half capacity."
Restoration 61 works with women who are currently in "the life" (actively being trafficked) or are making efforts to recover and start over following years of abuse at the hands of their pimp. In order to provide recovery services to these women, it is crucial that the resources exist to provide them with emergency housing and recovery efforts. However, due to social distancing requirements with COVID-19, Kara and her team have seen these resources nearly cut in half (for example, only one woman to a room now at a recovery home versus two), making it difficult to provide the level of support needed to all women who desperately need it.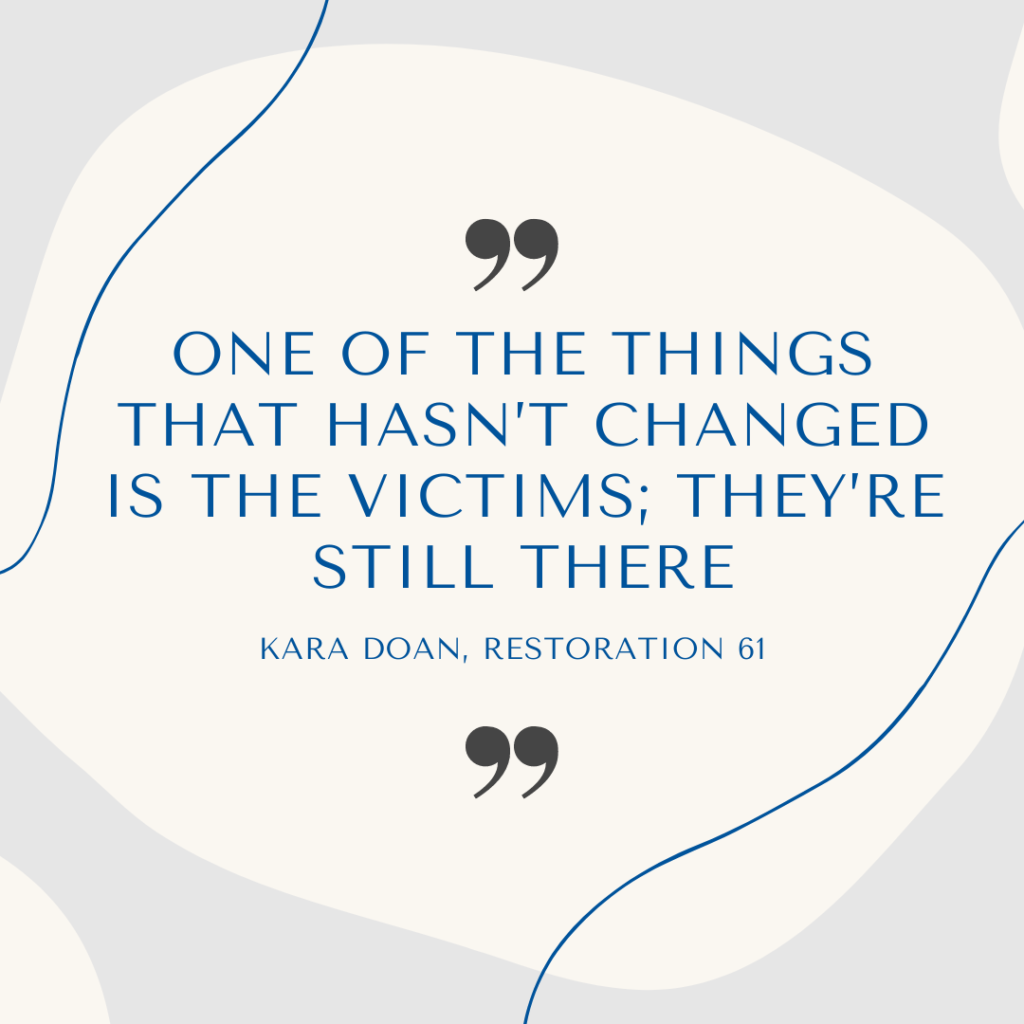 Despite the highly contagious nature of COVID-19, in recent months Restoration 61 has seen almost an "explosion" of new women who are in need of recovery services, showing that COVID-19 has done little to slow the awful process of women being bought and sold as a commodity.
"At the start of COVID-19, we did see a huge shift in the market initially, we weren't seeing a lot of Johns (men who purchase sex) trying to buy and we saw a spike in (virtual alternatives)," says Kara. "Now we have seen almost a hierarchy emerge – if you're purchasing a girl who is walking on the street, you don't have the same assurances if you're purchasing her through an escort service where somebody is certifying her as STD clean and now also COVID-19 free. Escort services can now say that their "girls" are COVID-19 "safe" and can produce rapid test results that show they don't have the virus."
During National Slavery and Human Trafficking Prevention Month in January, it's essential that during these unprecedented times we continue to educate ourselves and remain aware that even though the world may be shifting and certain ways of life may be coming to an end, heinous crimes such as human trafficking will not. Learn more about the JLC's work in human trafficking prevention here, and follow along with the JLC as we release further educational resources on human trafficking throughout the month.