National Slavery and Human Trafficking Prevention Month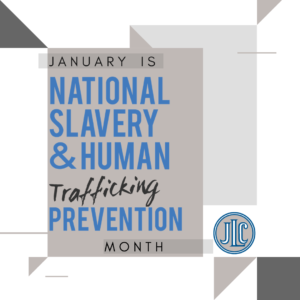 As we welcome a new year, the Junior League of Chicago (JLC) joins organizations around the country in recognizing January as National Slavery and Human Trafficking Prevention Month.  Throughout this month, we'll be sharing posts about the JLC's commitment to ending Human Trafficking, brought to you by the Advocacy Council and Freeing Individuals From Human Trafficking (FIHT) Committee.
The JLC's Advocacy Council identifies and researches policy issues and advocates on behalf of the League.  The Advocacy Council builds coalitions with like-minded organizations, promotes awareness and dialogue among JLC membership and the community, and educates League Members, community organizations, and policy-makers on issues facing the communities we serve.
FIHT is a committee within the JLC that provides education and awareness of human trafficking issues focused in the Chicagoland area. FIHT primarily focuses on sex trafficking and partners with two organizations (STOP-IT run by the Salvation Army and Restoration 61), that work out of Chicago and surrounding suburbs to provide awareness, support programs, groups, housing and education. 
In starting off this series, we wanted to dispel some of the myths and misconceptions around human trafficking and encourage thoughtfulness around the language used to discuss this issue.
Common Misconceptions
There is a common misconception that human trafficking is a third world problem or is uncommon, but it's more prevalent than we recognize and frequently underreported. You can encounter survivors in any aspect of your life – at a nail salon, a massage parlor, in a hotel, or at any other place you frequent. In addition, sex trafficking is not the only form of trafficking. Labor trafficking – modern day slavery –  is happening throughout the world and right in our neighborhoods, too. Labor trafficking can be behind the cheap consumer products we purchase, or even used to pick tomatoes or peel the shrimp that end up in our grocery stores.
We want to challenge how we think about trafficked individuals
The issue of human trafficking often brings images of victimized women and girls to mind.  However, it's important to identify individuals who have escaped Human Trafficking as survivors – not as victims.  In addition, it's important to acknowledge that human trafficking is not solely a women's issue, nor a children's issue. Men also face the reality of being trafficked, yet they are often underrepresented by the news stories and dramatization of human trafficking in popular culture due to a Hollywood Effect, where trafficking is glamorized, such as in movies like Taken. 
Laws and Labels
It's also important to look at the way in which survivors of human and sex trafficking are labeled in statute and law. In Illinois, the Illinois Safe Children's Act improved the way minors who were engaged in commercial sexual exploitation were treated. As a result, these youths are no longer referred to as "juvenile prostitutes."  Today, they are rightfully referred to as "victims of sex trafficking," regardless of whether a perpetrator/trafficker could be identified in the case.

Finally, it's important to note that trafficked individuals can come from any socioeconomic background, and can be groomed by anyone.  A stranger on the internet, or a family member, could be a trafficker, targeting those who are vulnerable or unsuspecting. This can be anything from a physical need such as money to an emotional need such as attention. 
Read the next post in this series, The Unexpected Impact of COVID-19 on the Human Trafficking Epidemic in Chicago