One Little Black Dress, but a Big Purpose
The JLC's LBDI
For many, the little black dress is a wardrobe staple, perfect for an important meeting or night on the town. So, why is the LBD at the center of the JLC's newest fundraising campaign?
With the unstoppable force that is the Junior League of Chicago, from May 10-14 we will participate in the Little Black Dress Initiative (LBDI). Throughout the week, JLC members and supporters, our LBDI Champions, will don the same black dress (or outfit) to raise awareness and start conversations about critical issues facing our community.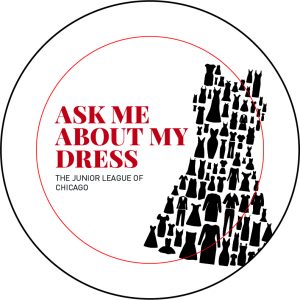 In alignment with the JLC's signature issues, we'll focus on combatting human trafficking, an issue that has remained a constant focus for many nonprofits, law enforcement agencies, and individuals. It is a major problem, particularly here in Chicago, and for the individual looking to make an impact, the path to making a difference can feel unclear. The JLC, however, provides a conduit for action, one of which is participation in LBDI. We invite members, donors, and community members to join us in our inaugural year of LBDI participation to raise awareness of human trafficking issues, fundraise for important initiatives, and explore how we, as a community, can provide solutions. 
While funds will benefit many elements of the JLC's work, the focus of the LBDI campaign is to raise awareness of our work around Violence Prevention & Awareness, one of our Signature Issues, as data show that exposure to violence has significant negative consequences as it pertains to health and well-being. The funds raised will put trained volunteers into areas of need in the Chicagoland area.
We do this, in part,  through our Freeing Individuals from Human Trafficking (FIHT) project. ​FIHT was formed to support the fight against Human Trafficking in Chicagoland, a significant area of need given the proximity to an international airport and well-connected highway system. The FIHT committee works with organizations across the city to support the community effort against human trafficking. FIHT has organized community drives and manned hotlines and continues to explore opportunities for getting our members involved.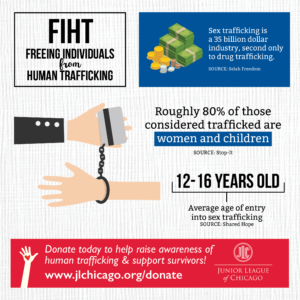 How it Works:
Whether you're committed to wearing an LBD to spark conversation, creating your own fundraiser, or getting involved with FIHT, you'll help create lasting change that you can be proud of.
Annual Fund Committee Member Erika Teitz was one of the first members to join the effort as an LBDI Champion. "I chose to participate in the JLC's inaugural LBDI campaign for the same reasons I joined this organization: I am passionate about helping women and children in need across Chicago," she explained. 
Prior to and throughout the LBDI campaign, JLC members are encouraged to increase their awareness of prevalent issues facing the Chicago community. "People of all ages, genders, races, and socioeconomic backgrounds can fall prey to human trafficking," Teitz said. According to a report completed in 2018 by Dr. Houmenou at the University of Illinois at Chicago (UIC), 'approximately 4,400 girls and women engage in the sex trade on the streets in Chicago a week.' "It's a truly astonishing number," Teitz continued. "I want to be part of the fight against human trafficking not only in Chicago but around the world." 
LBDI Champions don the black dress, or outfit, of their choice and will also wear an "Ask Me About My Dress" button (or post it on social media). Champions can collect donations through their fundraising page while bringing awareness to the campaign through social media posts, emails, and meaningful one-to-one conversations. 
LBDI Champions will illustrate that even some of society's most challenging problems can be impacted by the action of one. 
Why join the LBDI? 
The LBDI was founded in 2014 by the Junior League of London and is a program of the AJLI, making it a truly international initiative. 
In mid-2020, JLC Fundraising Director Jess Fernandez-Evans brought the LBDI to Chicago.
"I first participated in the LBDI as a member of the Junior League of London and saw what a powerful impact it can have, both on a personal level and across an entire League. It's a brilliant platform for raising both awareness and funds for a league, and when I joined the Junior League of Chicago I knew it would be a great addition to our league's campaign portfolio – simple, effective, and modern," Fernandez-Evans said. "And because LBDI is, at its heart, a social media campaign, COVID-19 hasn't had much impact on our planning efforts this year – but it has underscored just how truly needed our work is now more than ever."
For more than 100 years, the JLC has forged a route to a healthier, safer, and more equitable Chicago through hands-on service and advocacy. To continue this work, we must broaden our base of support. 
The 2021 goal for the LBDI is to raise $25,000 — and we need your help! 
How can you help? 
Sign up

to be a Champion and commit to wearing your LBD (or outfit) May 10-14. Register

here

.

Learn

through LBDI Week events such as an educational

JLCU

or Human Trafficking Partner Panel. See Connections for more details!

Get social

. Engage with the posts of other JLC members. Help spread the word by sharing or engaging with LBDI social media posts from the JLC and participating members, using the hashtags #JLCLBDI #JLChicago #LBDI.

Sponsor us. If you are or know of a business or community partner interested in supporting the mission of the JLC, please read about our LBDI sponsorship options on our LBDI info page.
---
By Blaire Sullivan, Annual Fund Committee Co-Chair