COVID-19 and the Junior League of Chicago: One Year Later
Do you remember where you were and what you were doing when news of the COVID-19 pandemic broke in March 2020? I do, and I suspect all of you have a memory of that period imprinted on you. While much of life as we knew it came to a screeching halt, the Junior League of Chicago did not.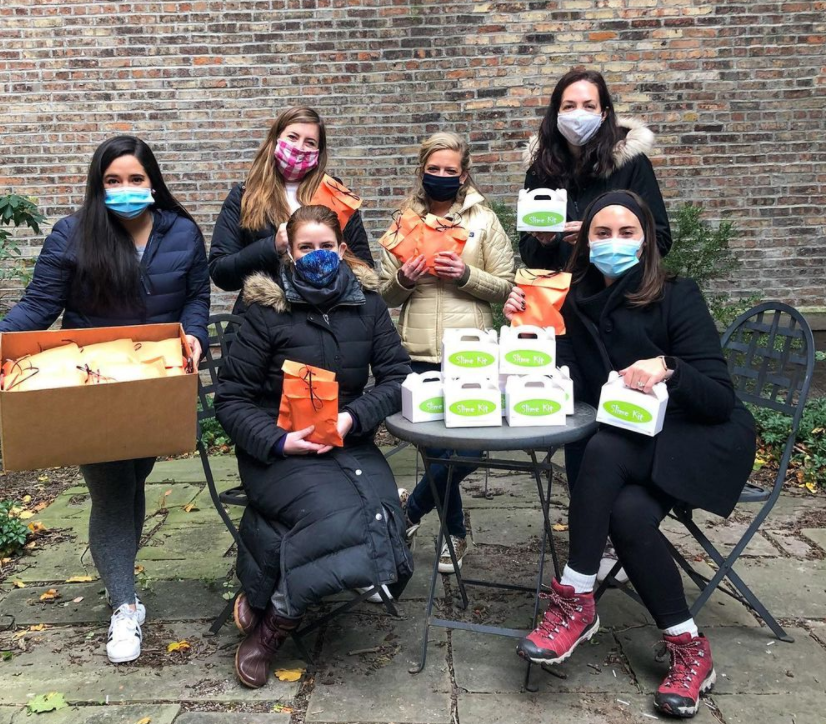 We jumped into action — pivoted to virtual meetings, brainstormed on virtual programming, volunteered where and when we could, reimagined fundraising, supported members in need, and refocused our finances. We truly earned our recognition as a "training and learning organization." While the pandemic's initial phase was scary as so much was unknown, I am so grateful for all that we learned as an organization.
Every single committee had to do something different. Each month brought a new challenge and new opportunity. Let's look back at all that we accomplished together over the past year.
March 2020
The Board of Directors moved to suspend all events and programming, moved all meetings online, and closed Headquarters for our members and staff's health and safety. Many of our community partners cautiously suspended service activities out of concern for participants and volunteers.

The Board also established the Dues Support Program to assist our members facing financial hardships.

April 2020
We continued to adapt and remain mission-focused and developed virtual programming opportunities, such as virtual member meetings, virtual JLCU trainings, and our Spring Neighborhood meetings.
May 2020
We hosted our first-ever virtual Annual Meeting, with over 350 members in attendance.  Despite the pandemic, we thanked our members, celebrated our achievements, and welcomed in the new fiscal year.

June 2020 
The 2020-2021 fiscal year began with uncertainties about the pandemic and a call for social justice in our community. 
Past President Delane Heldt and I condemned racism following the murder of George Floyd and countless other Black men and women.

We recruited new members through virtual Prospective Member Information Sessions.

Members began participating in AJLI's 21-Day Racial Equity Challenge,

offering an intensive learning experience with other members from Leagues across the country in a virtual small group setting to discuss racism and their role in achieving racial equity in their communities.  Additional rounds of the 21-Day Challenge continued throughout the year, with more opportunities for this training planned for the year ahead. 

Our FUNraising Committee offered various virtual events, including a champagne tasting, beauty tips from an NYC-based makeup artist, and a meditation class.

We promoted an incredible 144

 Burton Associates to Active members.
July 2020
Our Diversity Steering Committee hosted a town hall series on Privilege, Allyship, and Intersectionality, engaging members in open dialogue and educational resources on topics such as

White Privilege 101

and

Microaggressions 101.

I provided an update on our Diversity & Inclusion efforts.  

We briefly re-opened Headquarters following the City of Chicago and State of Illinois guidelines

We hosted a virtual networking series based on industry for members to learn about opportunities or connect with members in their indust

ry.
August 2020
We hosted a virtual and interactive Summer Leadership Retreat.

Our Community Council collected, assembled, and distributed care packages to our community partner, The Women's Treatment Center, for our Freeing Individuals from Human Trafficking Committee and a women's shelter.
Our Astor Associate members gathered for their first community service day cleaning up around Chicago while staying socially distant.

September 2020
Due to increased food insecurity, we partnered with the Ravenswood Community Kitchen to support the Chicago community.  Volunteers bundled warm meals and bags of groceries, benefitting 180 community members.

To help our members boost their health, we hosted a Week of Wellness with offerings such as an outdoor barre class and a meditation class.

During National Literacy Month, we reminisced about Mad Hatter's live-action performances but shared plans for virtual performances and literacy care packages, including books, bookmarks, and stickers for the Chicago Public Library branches across the city.
October 2020
Our Events Council designed a reimagined Fall Fest with various activities, including a Kendra Scott shopping event, new JLC swag available to order, and have in hand for the Mask Up, Walk Out 5K.
Our Advocacy Council hosted six "Living Room" conversations, engaging members in facilitated dialogues on voting in the 2020 election.

The Connecting Kids to the Arts committee put together craft boxes for distribution to the Shirley Ryan Ability Lab, the Big Shoulders Fund, and Ryan Banks Academy.  These do-it-yourself projects gave children across the Chicagoland area an opportunity to unlock their imagination and find a healthy outlet for stress during this challenging time.

Volunteers participated in an outdoor hygiene kit packing event supporting the Night Ministry, which provides housing, health care, and human connection to Chicagoans struggling with homelessness and poverty.  More than 300 kits were distributed across the city to those in need.

The Chicago Children's Advocacy Center committee packaged 100 treat bags and 40 slime kits for families served by CCAC for their outdoor, COVID-friendly Halloween event.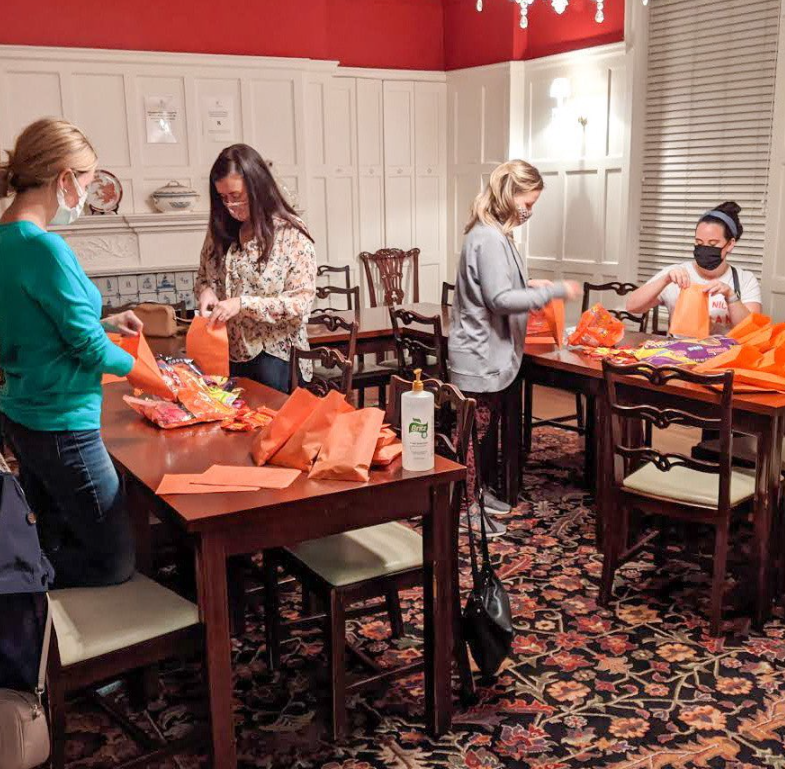 November 2020
Our Finance Committee re-forecasted our yearly operating budget for the first time.

In honor of our Founder's Day, we

announced a new Member Experience Program – Trip Around the JLC! – which enabled members to impact the community, meet fellow members, and get engaged in new and different parts of the League, all from the comfort of their homes.

Our Annual Fund Committee hosted "Rush for 100", our annual fundraising event to support our community projects, training activities, and advocacy initiatives.

Headquarters closed again due to Chicago's stay-at-home advisory, and members were encouraged to stay home and stay safe.

December 2020
A virtual panel discussion was hosted for members to learn about the impact of meeting essential needs – from menstrual products to housing to broadband internet – on educational outcomes in our community.

We thanked our members for their work during the first half of this unprecedented year and encouraged them to take time to safely spend time with their family and friends and take time to rest and recharge for the new year.

January 2021
We promoted our Astor Associates to Active members and welcomed the Burton Associates to their journey to joining the JLC.

We hosted our virtual Winter Leadership Retreat.

A virtual panel discussion was hosted for members to learn about the impact of meeting essential needs in health & wellness.

February 2021
Our Gala Committee hosted our first virtual Gala, and along with the Annual Fund Committee, raised over $57,000 for our community projects!

We approved new signature issues – Meeting Essential Needs, Literacy and Violence Prevention & Awareness.

Volunteers from our Membership and Community councils participated in the Chicago Volunteer Expo, the city's largest volunteer fair hosted annually by the Peggy Notebaert Nature Museum, connecting volunteers to nonprofits and community organizations from across the city.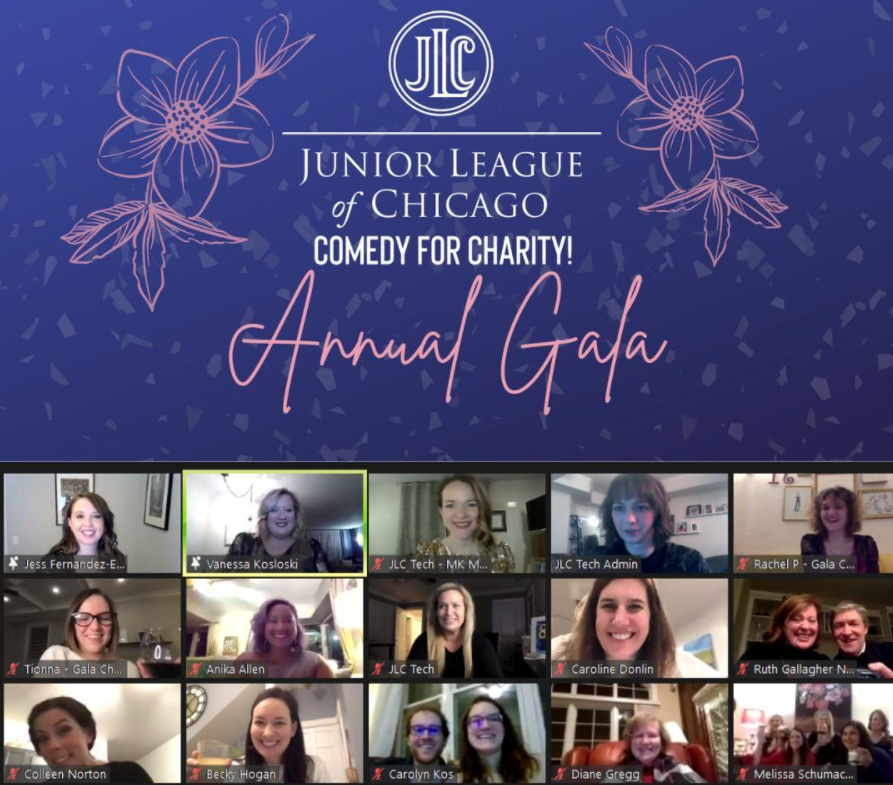 March 2021
HQ reopened and began to allow in-person meetings (based on the city's mitigations).

The 2020-2021 Board of Directors continued the Dues Support Program to assist our members facing financial hardships.

We once again confirmed our stance against racism in response to the surge in violence against the AAPI community, including the Atlanta area's shootings.  
Today
What a year we've had so far, and we've still got so much more in store for our members, like:
Spring Fest: our traditional spring events are still happening – just in a different form!
Advocacy Week (April 12 – 16)
National Volunteer Week (April 19 – 24)
Run for the Roses 5K on May 1
The Little Black Dress Initiative (May 10 – 14)
Our Annual Meeting on Thursday, May 20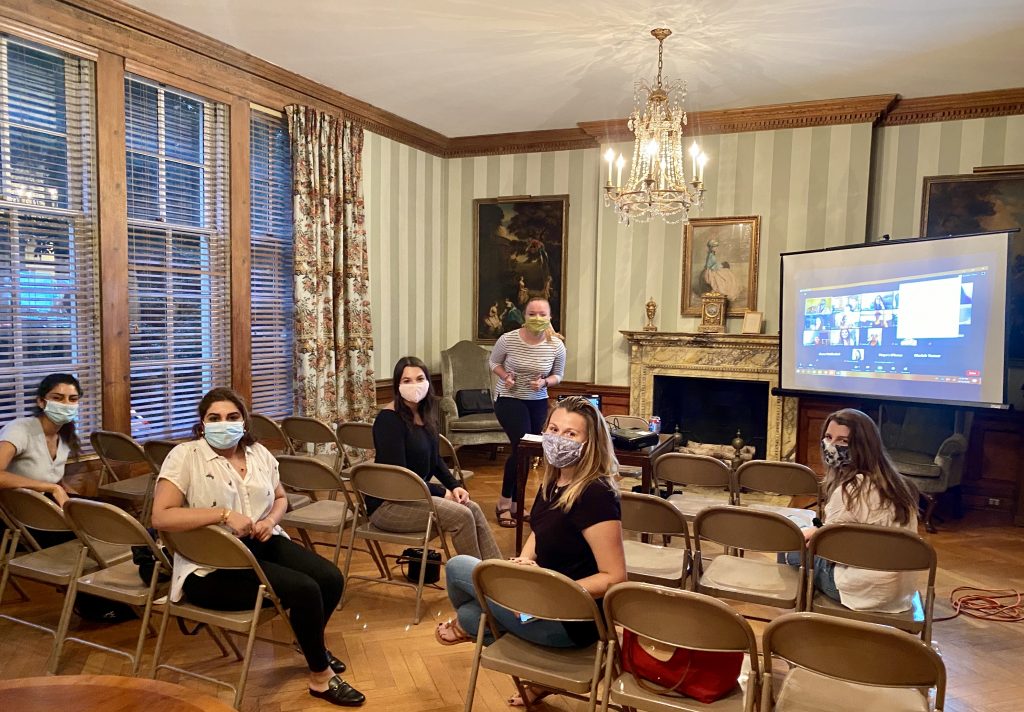 I am so proud of everything we have accomplished this year!  Thank you for all that you have done to support the League, our community, and each other during one of the most challenging times in our lives – we couldn't have done any of this without you!  
---
Written By Melissa Schumacher, JLC President 2020 – 2022