Celebrating 110 years of the Junior League of Chicago: Part 2
The Early Years of the JLC: 1912-1942
In 1912, people flocked to the City of Chicago for jobs and adventure. But women were often left behind. Inspired by Jane Adams, Lucy McCormick Blair Linn and 12 friends formed the Junior League of Chicago to drive social change and help women. Their first project was to create somewhat of a safe haven for women working in the loop. "Restrooms" were created so that women who were often exposed to harassment in the workplace could not only have a place to take a break during the long workday but also access much-needed services, including medical care through a partnership with St. Luke's Hospital and training in new skills.  
The success of this initial project skyrocketed: by 1917, more than 26,000 women visited the rooms annually.  Partnerships are important to the JLC's early years.  JLC members collaborated with the Olivet Mission to establish a home for girls who move away from home and to the city.  
When the principle of Public Health first emerged, the JLC funded a Visiting Nurse who in 1915 made 3,564 house calls to treat scarlet fever, measles, and diphtheria.
The Expansion of the JLC
The JLC expanded through the 1920s to focus on the arts, specifically, inspiring and driving children's creativity. The organization is responsible for starting the country's first children's theatre and worked with other leagues around the county to establish regional children's theatre programs while at the same time providing resources for children's healthcare through the Infant Welfare Station and the Visiting Nurses Association. 
From there, the League remained integral in the arts as the World's Fair came to Chicago. The 1933 Century of Progress World's Fair was a high point in the hard economic times and the league designed and operated the Enchanted Island, where children could enter with performances, train rides, a game field and crafts! 
JLC's Advocacy
Advocacy remained a stronghold within the Junior League, especially in Chicago. In partnership with local radio stations, the JLC worked with WBBM for lectures on current events and pieces about Chicago welfare agencies and WLS for Children's programming. Children's health and safety also remained a top priority for these women: the JLC drafted standards for day nurseries and established the Foster Home for Convalescent Children with the Chicago Orphan Asylum (currently Chicago Child Care Society), Children's Memorial Hospital, and Cook County Hospital.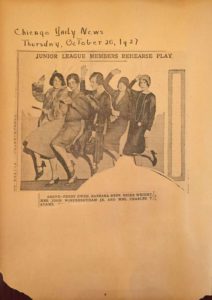 Learn more about the great work the Junior League of Chicago has done to date in our follow-up post focused on the 1940s-1960s and 1970s-2000s.