The Junior League of Chicago donates over 125,000 volunteer hours to community agencies and programs that support child welfare and education. In addition, the JLC raises thousands of dollars each year to fund our 10 community projects. For more than a century, the JLC has diligently worked to empower at-risk families—especially women and girls—through hands-on mentoring, advocacy and education. Our Community projects fall into the following categories:

Health Education
Adult Life Skills
Education in the Arts
Mentoring
Combination of mentoring, Education and Advocacy
The Junior League of Chicago partners with organizations throughout the Chicagoland area to support at-risk women and children. If you would like to have your organization considered for a future Junior League Chicago Community project or volunteer event, please tell us about your organization. A JLC member will reach out to you within 72 hours of your submission. Thank you.
---
Below is the list of projects and programs supported by The Junior League of Chicago for 2016-2017
LaunchU
A year-long 1:1 mentorship program with high-school seniors who are usually first generation college-bound students. The JLC will be serving as both mentors and volunteers with some of their programs.
Blessings in Backpack
Provides food on the weekends for elementary school children across America who might otherwise go hungry. The JLC will be partnering with Agassizi Elementary School in Lakeview!

Logan Square Neighborhood Association
A community based organization advancing diversity, leader development, and models for engagement as the catalyst for social justice. The JLC is creating brand-new programming for 8-12 events next year.
Project CON:CERN
JLC committee members provide consulting to two area non-profit per year concentrating on the core areas of volunteer management, board development, marketing and strategy. Committee members review applications from interested non-profits to determine which agencies to partner with based on strategic objectives, established mission, size, and budget. Committee members define a program that can be used by non-profit organizations to explore their current strengths, evaluate new opportunities and build capabilities. This years agencies include Child's Voice, an agency that provides language education for children with hearing loss, and The Harbour, Inc., which provides housing and supportive services for runaway and homeless youth ages 12-21.
Kids in the Kitchen promotes child health and wellness by empowering children and youth to make healthy lifestyle choices, therefore preventing obesity and its associated health risks. The initiative is supported by the Association of Junior Leagues International, Inc. and its member Leagues including JLC. Children are engaged in the preparation of healthy meals as a means to educate them and their parents regarding nutrition and healthy lifestyle choices. Local community organizations, chefs and nutritionists partner with the JLC and its members to provide lessons and demonstrations related to preparation of healthy meals and snacks.
Connecting Kids to the Arts
Connecting Kids to the Arts works closely with five community partners to give children, who are either being served by its partner organizations or whose parents are being served, the opportunity to express themselves creatively, with the goal of raising their self-esteem and having fun during what may be a stressful time. At the same time, their parents are given time to either receive services themselves or simply take a much-needed break. Current partners include
JLC's own community project, Girls All Stars
These partnerships enable the project to impact a wide range of demographics and issues in the greater Chicago area. Through these partnerships, the council projects that 1,056 children participate in its events annually.
Done In A Day
Done in a Day organizes service projects throughout the year targeted at helping women and children in the community in just one day. The committee has relationships with dozens of partners throughout the city and creates opportunities for JLC to work with other organizations and explore future partnerships. Last year the committee organized 63 events and projects ranged from painting children's faces at Halloween events to passing out water during the Chicago marathon. Here are some of our DIAD events:
The committee's wide offering of projects, times and locations make the Junior League's ongoing service in the community possible. For additional information or to apply for DIAD assistance, please contact JLC  jlchq@jlchicago.org
Girls'

All Star

Club

JLC members help girls, grades 3-8, develop an interest in learning by improving their skills through homework help, relationship building and social interaction with JLC members in various low income Chicago neighborhoods.
Journey to Healthy Living
JLC members give women living in the near west side of Chicago access to free fitness classes, nutrition classes and other wellness information. This area of Chicago has been designated a "food desert" because of the lack of access to healthy food. Consistent monthly programming focused on health and wellness provided by this committee helps to fill the gap.
Mad Hatters
Mad Hatters promotes literacy among children and literacy awareness to parents through an interactive story time for children and their parents. Story time demonstrates to parents and children that reading can be fun and aims to translate this value to parents. The committee members visit libraries, schools and other community groups to perform to children ages 3 to 9 years. Performances include books, poems and songs while wearing crazy hats to encourage each child in the audience to expand his/her mind through reading and to familiarize each child with the local library, while stressing the fun and importance of reading!
Teen Exodus
Teen Exodus serves at-risk teenage girls, ages 12 to 17, in the Near North Side, Washington Park, and Uptown neighborhoods of Chicago with the goal of goal of providing the young women with activities that foster both self-esteem and leadership growth. The JLC manages this project in collaboration with the non-profit organization Chicago Youth Programs. JLC members mentor the teens most Saturdays throughout the school year and provide the participants with a fun, educational activity and a hot lunch. JLC members structure each event to expose the teens to new experiences and activities while addressing prevalent issues within the teens' communities. Examples of topics addressed include nutrition, college and career aspirations, and teen pregnancy prevention. Teen Exodus plans events that balance fun and educational activities, like hip-hop dance classes, healthy cooking classes, and theatre performances. Since the project's inception over ten years ago, approximately 200 teen women have participated in the events and benefited from mentoring relationships with JLC volunteers.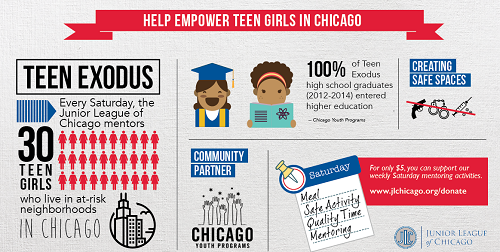 The Women's Treatment Center
JLC members work with clients in the Recovery Unit at Madison Place undergoing the final stages of therapy for substance abuse. Members plan and conduct weekly events that develop the mothers' job, social and life skills while helping to enhance the mother/child relationship.
---
Please consider supporting the important mission of Junior League of Chicago in one of the following ways:
or
Your generous donations help the Junior League of Chicago uphold our mission by supporting our volunteer training initiatives, community impact programs and maintaining the Headquarters to be a safe and efficient space for meeting and training.