How to Succeed in the Junior League
Whether you're a born leader or one in training, the Junior League of Chicago provides an unparalleled platform to hone your leadership skills. As stated in our values, "the JLC provides training in a safe environment for responsible and thoughtful risk-taking."
Combined with the range of committees, outreach programs, and community partnerships, the opportunities abound for members to expand their skills in a sensitive and respectful environment.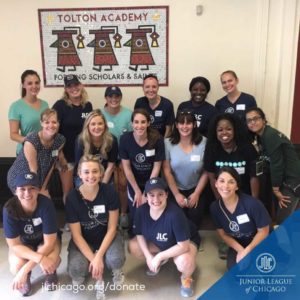 The qualities of a JLC leader are similar to those of any organization (vision, dedication, assertiveness, etc.) but since the JLC is a volunteer organization, there are a few other important qualities to add to your repertoire. Laura Southwick, a former Annual Fund Chair, suggests strengthening five leadership attributes key to becoming a successful JLC leader.
1) Enthusiasm: Take an active interest in the League in general, the committee you are on, and the goals you set out to accomplish throughout the year.

2) Development: The best source to develop new leaders in the League is our current leaders. If you're currently in a leadership position, keep an eye out for women who show the talents, skills, drive, and excitement for leadership.

3) Involvement: Get involved with general events of the League. Attend fundraising events, go to general meetings, or buy raffle tickets at events. This is your organization — own it!

4) Contribution: Support the League beyond dues. Contribute to the annual fund, buy tickets for fundraising events, and leverage outside relationships to help solicit additional revenue opportunities.

5) Communication & Listening: League leaders are liaisons between committees and the League's management. This is key for information to flow freely, members to feel understood, and to cultivate ideas, thus allowing the League to make forward progress. Open communication will also keep your committee engaged and excited about the JLC.
Whether you're taking on a new role or figuring out how to reach your committee's goals, be fearless in knowing that you have the support of hundreds of other like-minded women. The League will stand with you as you strengthen your skills and lead the way.
By Melissa Bueninck with contributions from Erin (Bonnivier) White, Originally Published 2008