Focusing on the Issues Together: Join Us to Virtually Watch the 2020 Debates
What will happen when the candidates take to the debate stage for the 2020 presidential debates? We don't know — but what we do know is there are a number of pressing issues facing women, children, and our communities that the next president (and vice-president) will have the opportunity to address.
We invite you to join us from your home for an engaging, educational, and interactive game of Presidential Debate Bingo to raise awareness around the Junior League of Chicago's current advocacy issue areas of Education, Human Trafficking, and Health & Wellness.
Instructions for Presidential Debate Bingo
Save a copy of the JLC's digital Bingo card.
Make plans to listen in to the presidential debates currently scheduled from 8:00pm to 9:30pm Central time on September 29th, October 15th, and October 22nd, and the vice-presidential debate from 8:00pm to 9:30pm Central time on October 7th.
Once you hear a candidate mention one of the items/squares on the card, mark through the square.
Throughout the debates, take screenshots or pictures of your bingo card and post it on your social media profiles to show the attention – or lack thereof – these important issues are getting.   Share your screenshot on your Facebook or Instagram account using our hashtag #JLChicago (and don't forget to tag the Junior League of Chicago).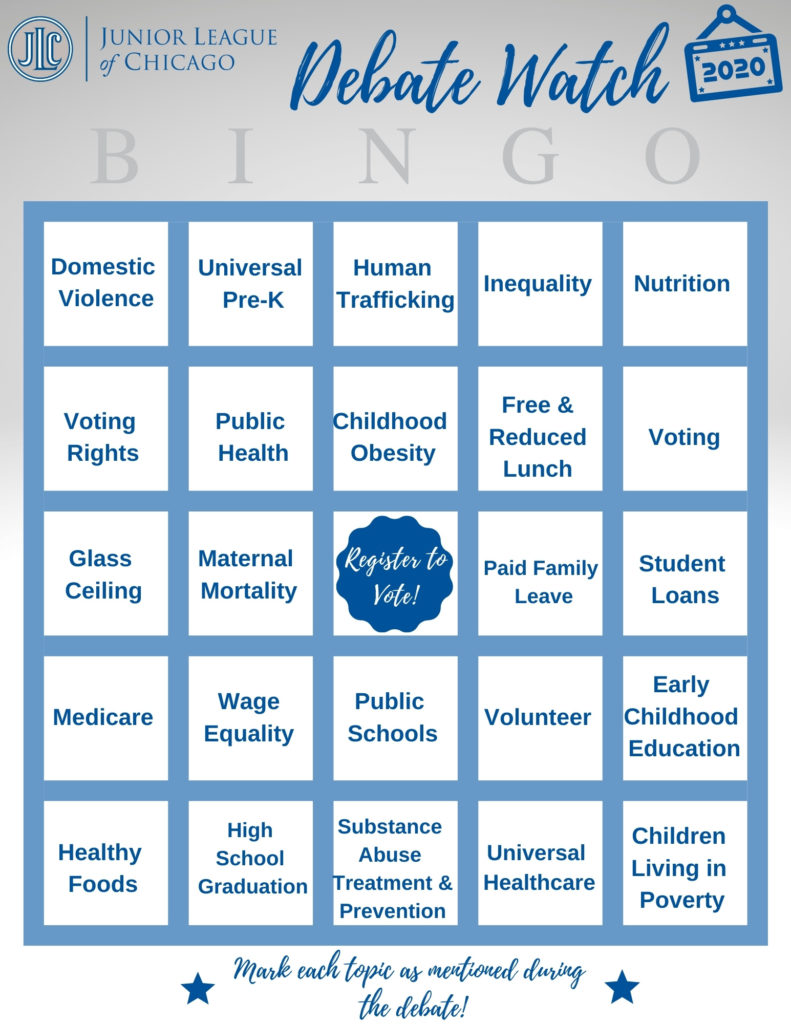 The Junior League of Chicago's Areas of Impact
Education
The Junior League of Chicago is committed to ensuring all children are given the opportunity to receive the highest quality education and care necessary for their intellectual, emotional, mental, creative, physical, and social development. The JLC supports high quality education and care for all children through advocacy, training and community projects.
Human Trafficking
The Junior League of Chicago recognizes the severity of human trafficking's impact on the well-being of women, men, and children in Chicago and therefore supports awareness efforts, public re-education, the development of partnerships with and between community organizations, and greater access to services and supports for victims.
Health & Wellness
The Junior League of Chicago believes that the health and wellness of Chicago's citizens is vitally important to our community and supports efforts to improve health in the following areas: Physical: promoting access to healthy foods, physical activity and quality health care; Mental: promoting stability in the midst of family transitions and access to mental health care; and Social: promoting access to safe after school activities and the arts.
For more information, read our blog post about how to exercise your right to vote in Chicago this year's election.
Written by Kristin Bernhard & Rebekah Bueschel
Advocacy Council Vice Presidents